Attocube Awardees
Awards for Munich junior scientists
29.07.2013
On July 19th 2013 outstanding junior scientists from the Center for NanoScience (CeNS) were honoured with the attocube Research Awards. The awards go to PhD theses and Master's theses that demonstrate outstanding scientific accomplishments and innovative ideas with potential impact on industrial applications.
This year two of the lucky winners came from two SFB1032 groups: Eva-Maria Roller from the group of Prof. Tim Liedl (A06) and Dr. Johann Feckl from the group of Prof. Thomas Bein (B05).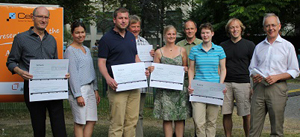 Read full press release on the CeNS homepage here...